The Fifendekel story is one of commitment and dedication.
Gordon and Ann Liske, founders of Fifendekel, opened their first shop in February 1983 with an idea to create a milkshake made the old fashioned way, with real milk and real ice cream. Ann began baking the finest apple pies to compliment the ice cream. After all, what goes better with ice cream than good old fashioned apple pie?
Today at Fifendekel you can have a whole meal to compliment those fresh pies…. a lunch of delicious sandwiches, salads and soups all made with the same special care. In July 1985 owners/operators Ann and Gordon, along with their daughter Barb, opened the second location. Since that time the remaining four children have become part of Fifendekel, opening other locations with the same commitment and dedication to provide their customers with superb quality and flavour in everything they make.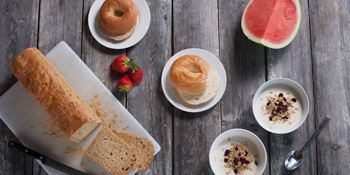 It Takes A Team

02/10 - General

We are 40! Well the travelling birthday parties were as mom said 'successful'. Thank you to all who came to enjoy our food and our company.  Stay tuned there will be other events. It really was about celebrating you.  Our customers. We could have spent dollars on media advertising but we felt providing you , […]

Read More